The seed sector is a key part of agricultural development in Africa, and efforts are being made to promote youth participation and entrepreneurship in the sector. Several organizations have initiatives to support youth in agriculture and the seed sector, and there are also various youth-led seed enterprises and startups emerging across the continent.
There are several reasons why the involvement of youth in the development of the seed sector in Africa is crucial.
Demographic shift: Africa has the youngest population in the world, and by 2050, it is estimated that the continent will have a population of 2.5 billion, with about 60% under the age of 25. Therefore, involving youth in the development of the seed sector is critical to harness the potential of this demographic shift and to promote economic growth, food security, and sustainable development.
Innovation and entrepreneurship: Young people are often more innovative, tech-savvy, and entrepreneurial than older generations, and their engagement in the seed sector can help drive innovation and improve productivity. Youth can bring fresh ideas and approaches to seed development, production, and distribution, and can help identify new market opportunities and create jobs in the sector.
Knowledge transfer: Young people have the potential to bridge the knowledge gap in the seed sector by sharing their skills, knowledge, and experiences with older generations. By promoting intergenerational learning and collaboration, youth can help preserve traditional knowledge and practices, while also bringing new perspectives and approaches to the sector.
Sustainability: Youth involvement in the seed sector can help promote sustainable agriculture and environmental stewardship. Young people are often more aware of the importance of sustainable practices, and their involvement can help promote the adoption of sustainable approaches, as well as improve the resilience of agricultural systems to climate change and other challenges.
AfricaSeeds has a dedicated program, the Young Seed Professional Program, aiming at creating the new generation of seed professional for the continent.
Initiated in 2018, the Young Seed Professionals Program allows freshly graduated seed professions to augment their university knowledge with practical knowledge and experience in the field via attachment to active and relevant seed projects to which AfricaSeeds is associated. The arrangement will allow the next generation of Africa's seed sector experts and leaders to be sufficiently mentored and groomed to gain familiarity with the opportunities and gaps in the African seed sector environment. This will prepare them to return, upon completion, to their national programs with higher preparedness to respond to the national call, or to be in a good position to identify other opportunities on the continent that better challenge their enhanced expertise.
Overall, youth involvement in the development of the seed sector in Africa is essential for promoting sustainable development, economic growth, and food security on the continent.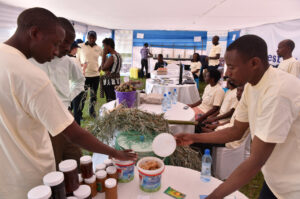 AfricaSeeds

has a dedicated program, the Young Seed Professional Program, aiming at creating the new generation of seed professional for the continent